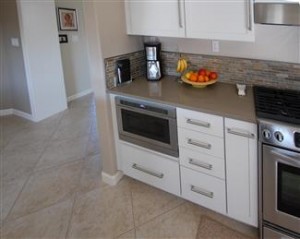 Under Cabinet Microwaves
Adding an under cabinet microwave is an excellent option while remodeling your kitchen. If you are planning a kitchen remodel and wish to use a custom hood vent, or other range exhaust hood rather than an over the range microwave/vent combination you'll still want a microwave to use in your kitchen. You could always get a regular table top microwave and place it somewhere on your counter top taking up valuable space. An under the cabinet microwave is the perfect way to keep those counter tops less cluttered. You can plan your remodel with a microwave cabinet, specifically made for storing your microwave just below counter top height.
You can use these cabinets to hold microwaves with typical swing open doors, they don't need to be mounted to the cabinetry though you'll still want a dedicated outlet sorted into the cabinet during the remodel process. You just need to pay attention to the microwave cabinet opening dimensions slide your microwave in on the shelf keeping it forward enough to be useable.
Under Cabinet Microwave with Drawer Design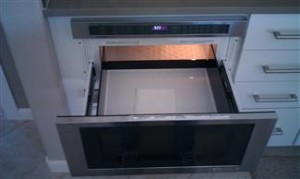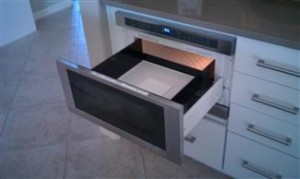 Instead of bending down,reaching into your cabinet during use, you simply push a button and it will open with the cooking area as a drawer allowing un-obstructed access to your food items. Push another button and it closes itself. All the controls are conveniently located on the appliance face for easy access. Drawer microwaves are flush mounted on the cabinet face so a little extra planning and likely some trimming of the opening size to the manufacturer's specifications makes for a clean solid installation.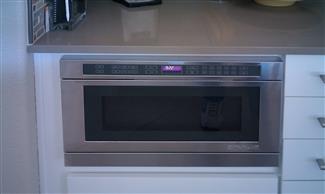 Under cabinet microwaves are great for not only keeping a clean kitchen design and less cluttered counter tops, they are a wonderful for planning aging in place situations. The under cabinet microwave with drawer design is likely the best choice if remodeling with aging in place in mind. You will avoid reaching up into a over the range style microwave and bending down to reach inside the cabinet and microwave. A simple push of the button will open the drawer at just below counter top height for easy access to your heated food.